Protect yourself & the planet.
Proven effective against SARS-COV-2.
Made from sustainable materials.
We knew there was a better way to stay safe without destroying our planet. A sustainable solution didn't exist, so we created one. Our products are powered by ViralOff® Polygiene Technology and proven effective against SARS-COV-2.
SELF-CLEANING, ANTIMICROBIAL GLOVE
We come in contact with 600 surfaces every day. Nearly 80% of malicious germs are spread by our hands, and can survive on hands for up to 3 hours. The All-Day Glove protects you from germs that live on high-touch surfaces, like public transportation, grocery carts, and workout equipment.
Unlike disposable gloves, the All-Day Glove is fully sustainable and can be reused. The ViralOff® treatment "cleans" the glove by killing 99% of germs and bacteria in less than 2 hours, and extends the wash cycle to every 10+ uses.
The glove is made from certified recycled materials, and the conductive fingertips on the thumb and index finger allow access electronics without compromising protection.
REPREVE® 3-LAYER ANTIMICROBIAL MASKS
Stay protected in style! These premium 3-layer masks are constructed from REPREVE® (recycled fabric made from PET plastic bottles), and treated with ViralOff® Polygiene Technology.
Two different styles and colors to choose from!

REPREVE® fabric is moisture-wicking and quick-drying, so it's comfortable to wear all day. The masks offer 3 layers of protection, and adjustable ear straps and nose pieces for a more secure fit.
VIRALOFF® POLYGIENE TECHNOLOGY
Polygiene is the world leader for antimicrobial treatments on fabrics, and is trusted by hundreds of brands around the world.
ViralOff® is Polygiene's latest antimicrobial technology that has been proven effective against SARS-COV-2. It reduces 99% of germs and bacteria in less than 2 hours and has been tested against viruses like Influenza A, Bird Flu, Norovirus, and Coronavirus (SARS)- shown by Test ISO18184:2019, ATCC VR-1679 (H3N2).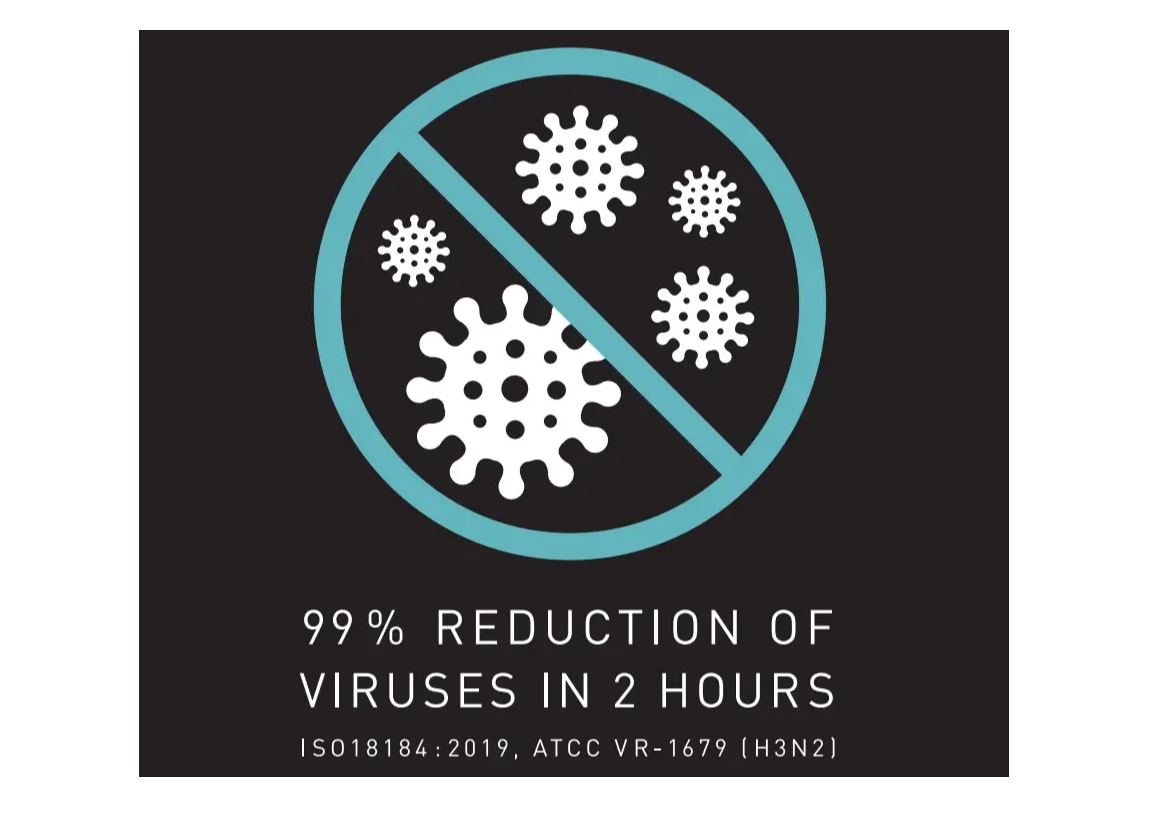 ---
REAL PEOPLE, THEIR STORIES
Justin Wilson
"I have atopic dermatitis so it's not unusual for me to have cuts or wounds on my hands. I ordered STOGO to help combat the risk of catching anything, and that is one choice I don't regret. Whether going into a store or simply being around others, STOGO is a must!"
Patricia Shepherd
"I use public transportation and these gloves are my best friends when I travel on paratransit for protection. They feel comfortable when worn. They look good as well. Nice invention for today's issues."
Brian Jordan
"I use mine every day at work as a custodian for a middle school in Las Vegas. They are the best for keeping my hands dry in this 100+ degree weather and I am able to still use my phone.. which is a blessing!"
Jose Gomez
"These are the best products I've seen on the market so far. Thank you for the quality and attention to safety me and my family really appreciate it."
Suzanne P.
"I'm pleased with the comfortable stretchy material. It's not too tight. The gloves are touchscreen friendly as advertised. I was using disposable nitrile exam gloves in grocery stores and didn't want to keep adding to the landfills. The ViralOff technology is reassuring. I hand wash them in the sink each night and hang them from to dry a pants hanger. They are dry by the next morning. I plan to order another pair."
Anna O.
"Excellent substitute for disposable gloves.
I am the only one doing the shopping in my home. I was going through 3-4 pairs of disposable gloves every time I shopped (one for each store). These gloves are nicely breathable (a.k.a my hands don't sweat) and the index fingertip works nicely on the credit card machines. They were also easy to remove without having to touch the palm/finger surface in between each store."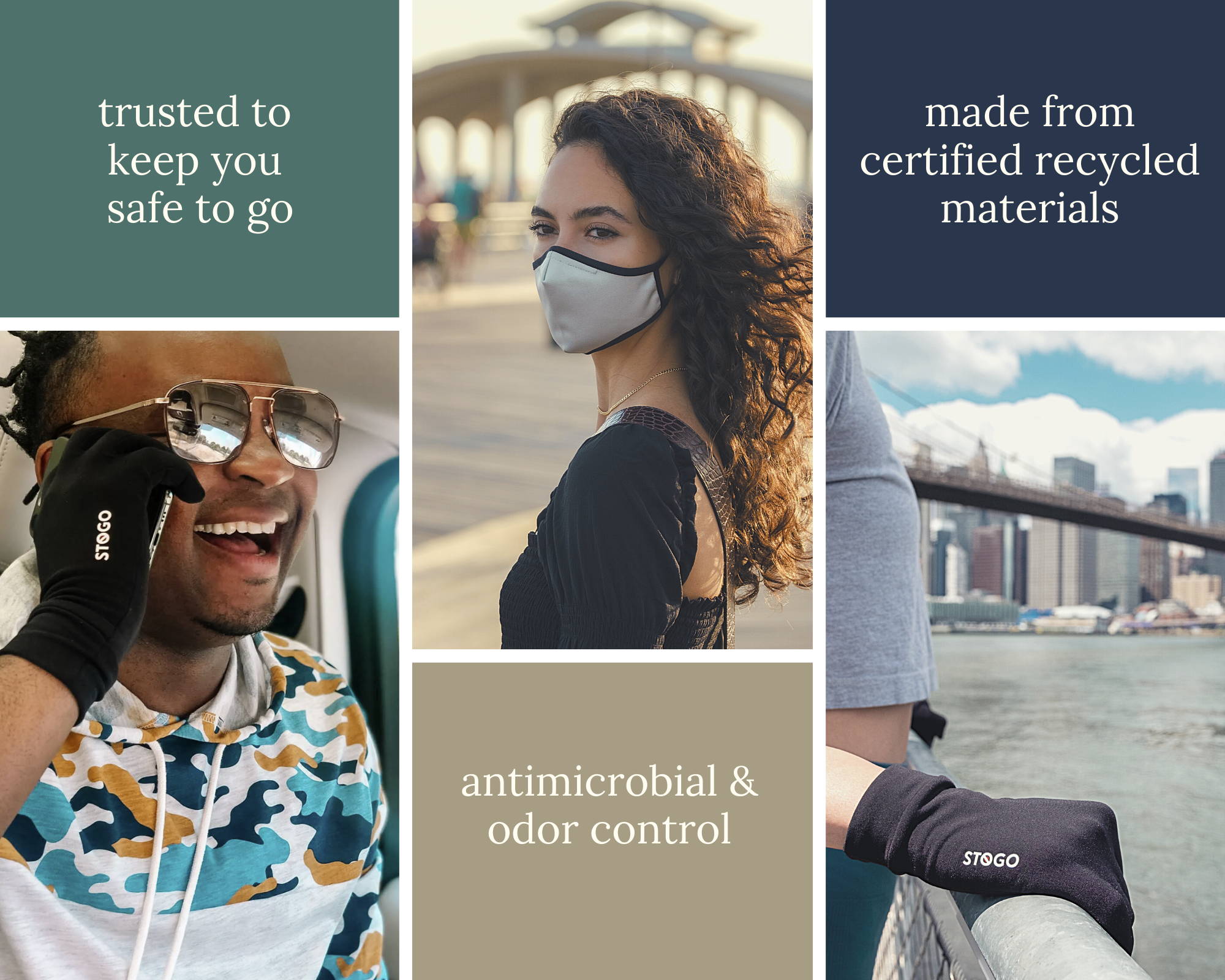 Save 10% on your first order when you sign up for our newsletter.